Getting dentures and living with dentures is a big change from having natural teeth, but that doesn't mean that life should be mumbled. We're here to help you enjoy your favorite foods, laugh out loud at jokes, and get close to the ones you love. It's what we do. And it's why we make the world's leading denture care products.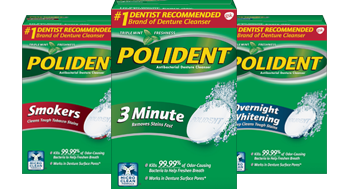 Polident® Denture Cleanser is the #1 Dentist Recommended Brand of Denture Cleanser.

Super Poligrip® Denture Adhesive offers a strong all-day hold that helps keep out food particles for a comfortable fit.
Your Guide to Getting Dentures