The innovation behind Polident MAX SEAL denture adhesive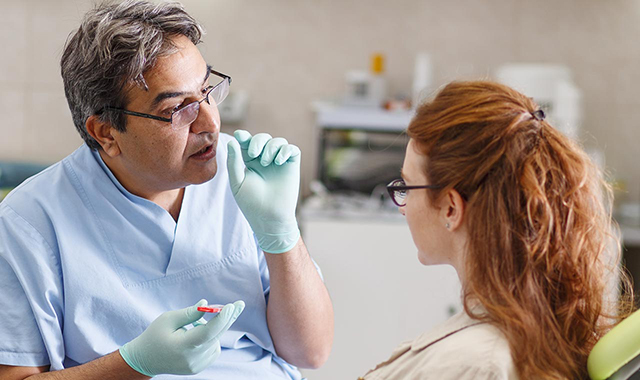 In the 21st century, scientific advances are coming thick and fast in almost every aspect of our lives. Thanks to Polident MAX SEAL, denture wearers need look no further for the latest exciting innovation from Polident.
Polident MAX SEAL is designed to help block out irritating food particles while providing a firm, long-lasting hold.
Here, Mark Penegar, R&D (Research & Development) – Polident, explains the science behind the product's benefits and offers a fascinating insight to the driving force behind it.
Why did you decide to create Polident MAX SEAL?
We asked a number of denture wearers about which denture adhesive attributes are most important – 84% would like a product that provides a strong hold and 82% told us it's important for their denture adhesive to keep food from getting under dentures. Polident MAX SEAL aims to meet those needs, helping denture wearers to feel free to eat, speak and smile with confidence.1
How does it work?
Polident MAX SEAL is a secure denture adhesive for both full and partial dentures. Here comes the science bit:
The product contains two adhesive polymers (chains of microscopic molecules linked together) that swell up in the presence of moisture – in this case, the saliva in your mouth.
This creates a 3D structure between the denture and the gum tissue, thereby delivering a superior surface coverage* for food seal protection and strong all day hold. It also helps seal out food particles which can cause irritation.
A specially designed precision nozzle delivers a narrower stream of adhesive. This allows you to apply it accurately and consistently whatever the size and shape of your denture. The result is an increase in surface coverage* and a firm hold that lasts up to 12 hours.
The new, precision nozzle with a finer tip also helps you apply the right amount.
It has a flavour-free formulation that does not interfere with the taste of your food or drink.
How else can it help denture wearers?
The superior surface coverage* and 12 hour hold are Polident MAX SEAL's leading characteristics. However, alongside these technical benefits, we hope denture wearers will experience some important emotional advantages when using the product too. By working to help block out irritating food particles and helping ensure you don't have to worry about your dentures slipping out of place, you can simply get on with enjoying life's everyday pleasures.
* On upper denture compared to a standard Polident Denture Adhesive Cream in laboratory tests.
1 US denture care awareness and usage report 2014/2015. Prepared for GSK by Radius Global Market Research.